Panasonic
Panasonic Communication Platforms
Whether you're looking for advanced IP-based network communications, desk-based phones, highly configurable Voicemail systems, or just want to streamline real-time communications across your business, every product in our Communications Platforms range has been designed to enhance business communications by reducing call costs, simplifying administration, and improving functionality.
A Communication Platform solution suitable for every business
There's a Panasonic Communication Platform that is ideal for your business whether you are in need of a digital system with handsets for one office, or full IP voice communication system solution capable of serving multiple office locations across the globe. Communicating with colleagues wherever they are is made easier with telephone Communication Platforms such as the KX-NS1000 neXTGen capable of integrating with smartphones and tablets, offering built in voicemail, high quality sound and reliability.
If you want to combine a more traditional telephone system with IP technology our Hybrid Communication Platforms or Hybrid Digital Platforms allow you to continue using standard digital and analogue telephones alongside new technology. Ultimately flexible, they allow you to control costs as you progress from older, to new technology solutions at a pace that suits your business needs.
If you are just starting out in business, the Panasonic new business editions are designed for smaller businesses like yours, providing digital or VoIP telephone network solutions for up to 16 users with voicemail and integration with your PC's.
And our analogue phone systems platforms are highly flexible, capable of handling multiple analogue lines and extensions and by being fully programmable, provide your business with the telephone system you need.
A choice of handsets, voicemail and communication applications to choose from
We offer a comprehensive range of telephones to complement your Panasonic Communication Platform, whichever solution you choose. From SIP telephones and IP telephones to digital phones, headset options and conference room phones you can be confident we can provide everything you need to make communication easier to manage.
Our highly flexible Panasonic Voicemail systems can help to cut customer call waiting times and boost customer care storing external and internal messages to help your staff stay on top of their work, and the Panasonic communication application software allows your workforce to communicate effectively whether they are in the office, working at home or working on the move.
Unified Communications Platforms
KX-NS700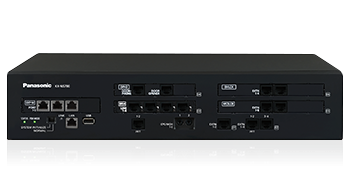 KX-NSX1000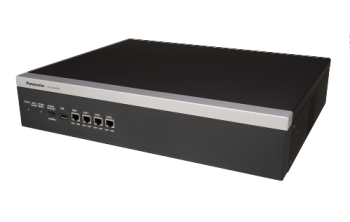 KX-NS1000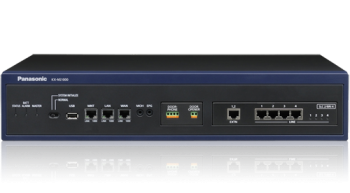 KX-TES824E
Advanced hybrid telephone system – up to 24 extensions.
Up to 8 CO lines and 24 Extensions
Built in DISA / Message on Busy
Built-in Extension CLI
Built in Modem
Voice Message (Optional)
Built-in USB Port for PC Programming
Advanced hybrid telephone system – up to 24 extensions
The KX-TES824E is initially configured to 3 exchange lines and 8 extensions. With optional cards you can easily expand the capacity up to 8 exchange lines and 24 extensions. The system comes with built-in DISA / Message on busy, Extension Caller ID, Remote Modem and USB Port for PC Programming.
Featuring DISA (Direct Inward System Access) which allows outside callers to access any extension without going through an operator. Automatic greeting messages can be recorded by the operator of manager, directing the call to an appropriate department or destination. The system is smart enough to even detect an incoming fax transmission – routing the call automatically to a designated fax extension.
Extension Caller ID compatibility displays the incoming caller's phone number or name when used with a Panasonic proprietary display telephone. Up to 20 calls can be logged per extension.
The Optional Voice Message Card ensures you will never miss a call when you are not available. You can customize you voice mailbox, by recording your own greetings which will be played when you cannot answer your phone. This system supports the KXT7700 series range of telephones (KXT7735, KXT7730, KXT7720 and KXT7750).
Digital handsets
Comprehensive features, intuitive technology and a user-friendly interface, all come together in our innovative range of digital handsets – ensuring a superior level of desktop usability and comfort.
These telephones offer superb voice quality thanks to full duplex hands free speakerphone and integrated headset port.
The sleek, ultra-modern design, available in both black and white colour options, works well with any office decor. Ergonomically designed with features and functions to enhance users' daily productivity, they are ideal for many applications including contact centre agents, hotel rooms, to advanced desktop applications supporting a range of wired and DECT headsets thanks to the EHS connection.
KX-DT546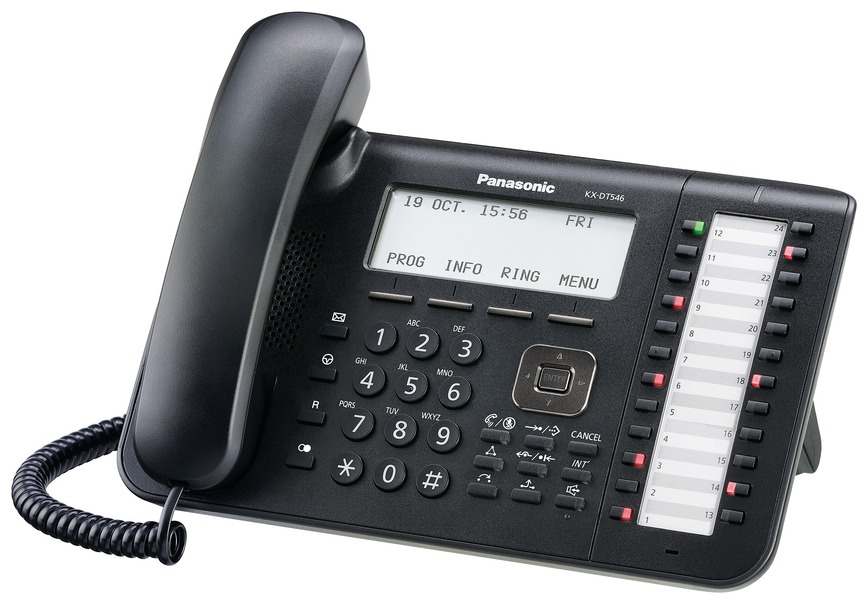 KX-DT543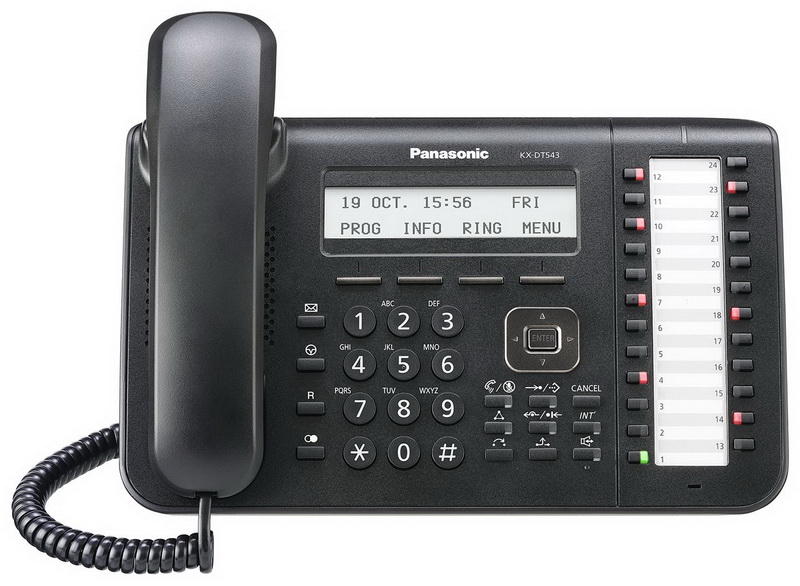 KX-DT521